Web Programming Step by Step
Discussion Section 3: Twelve Days of Xmas
Basic PHP
section idea and code by Sylvia Tashev and Stefanie Hatcher
This section is about writing dynamic and elegant pages using PHP, as well as finding and fixing bugs in PHP code.
Buggy PHP programs:
The following short PHP programs each contain one or more bugs. The bugs could be syntax errors or incorrect logic. Look at each program, find the bug(s), and correct the errors.
Here are some useful general debugging tips:
Look at the error messages, if any, and examine those lines in your PHP source file. (You may need to enable line numbers in your editor.)
Check for mismatched brackets. Many editors support bracket matching. (In TextPad, select a bracket and press Ctrl-M.)
PHP's error messages are not very friendly, often mentioning obscure internal terms like T_VARIABLE and $end. If you don't understand an error message, try Googling for the error message to see if others have seen this kind of error before. You may be able to find an explanation of what causes this problem and how to fix it.
If there is no error message but something wrong, try printing the value of your variables at various points in the code. Use print statements for simple variables and print_r or var_dump for arrays and objects. (The XDebug software we have installed on Webster will show the values of variables when errors occur, but you may need more than this.)
12 Days of Xmas:
Write a page that displays the complete lyrics of the song, "12 Days of Xmas," along with displaying images for each of the gifts given on each day. Start from the template in the following file:
The page already has the correct appearance, but the code is long and redundant. Modify the page to use PHP code to remove this redundancy. The last of the 12 days should look like the following: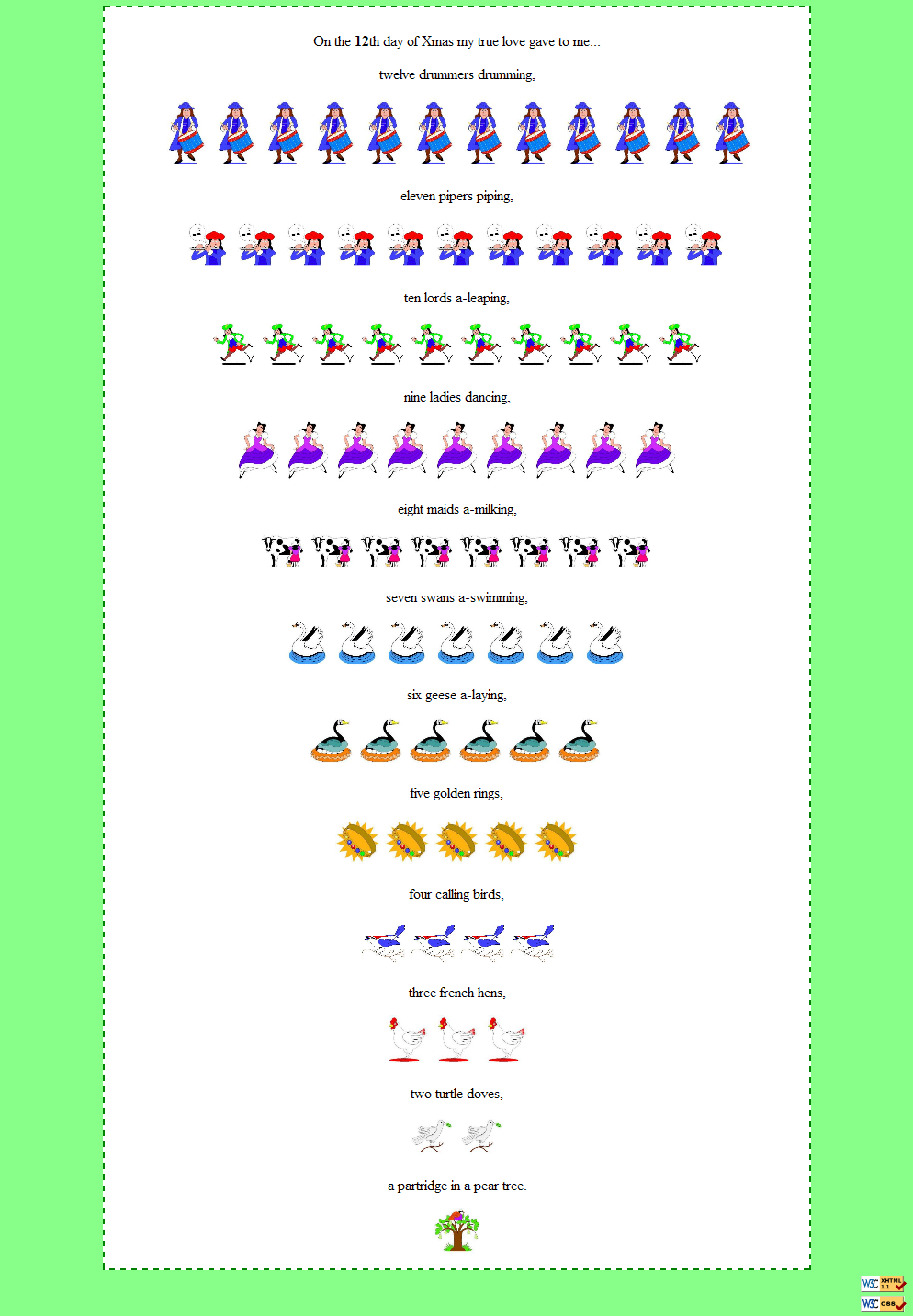 We suggest you code this page by following these incremental steps:
For each day # N of Xmas, show day N's gift image once, with no text under each image.
For each day # N of Xmas, (show day N's down to day 1's) gift image once each.
For each day # N of Xmas, show (day N's down to day 1's) gift image N times each.
Add the text labels such as "Three French hens" under each gift's image(s).
There are some stylistic aspects of the page that you should be careful about:
You should minimize the use of print statements and should never print any HTML tags.
Ideally your PHP code should have appropriate indentation so that if the user chooses to View Source in the browser, the HTML source output will be readable.
You should find a way in your PHP code to elegantly represent the gift descriptions such as "three French hens" without lots of repeated text, code, or if/else statements.
When you're finished with your page, the code might look like the following sample solution, written by Sylvia Tashev and Stefanie Hatcher: